Dziś zakończył się pierwszy Obóz Kultury 2.0 w Chrzelicach — eksperyment MediaLabowy, mający formę wypełnionego warsztatami czterodniowego spotkania artystów i przedstawicieli najróżniejszych obszarów kultury 2.0. Chrzelice to (dziś) mała wieś niedaleko Opola, o bardzo bogatej, ponad 700-letniej historii. Tematem jednego z warsztatów była digitalizacja fragmentów tej historii i archiwizacja dziedzictwa kulturowego wsi. Celami tego warsztatu były ocalenie i zdigitalizowanie tego dziedzictwa, ale przede wszystkim wypracowanie technik oddolnej digitalizacji. Uczestnikami warsztatu były zarówno osoby związane z historią, jak i etnologią, socjologią, fotografią, bibliotekarstwem i innymi naukami. Udało się więc wykorzystać różne media i techniki: od nagrywania wywiadów z mieszkańcami Chrzelic (tu jeden z fragmentów), z których kilku pamięta jeszcze czasy świetności Chrzlickiego zamku (dziś to ruina); po skanowanie dokumentów, fotografowanie obiektów związanych z historią wsi (przy uczestnictwie Śląskiej Biblioteki Cyfrowej i Warmińsko-Mazurskiej Biblioteki Cyfrowej); aż do skanowania trójwymiarowego, oraz skompletowania mapy wsi i jej okolic w OpenStreetMap. Idea projektu OpenStreetMap wpisała się w tematykę warsztatu, bo crowdsource'ing to pewna forma digitalizacji "oddolnej". Położono nacisk na zabytki i na dzisiejsze ogniska kultury Chrzelic, a także na lokalne, a nawet potoczne nazwy terenowe, których trudno szukać na istniejących mapach (których z resztą nie ma wiele, bo inne popularne serwisy mapowe w Internecie, święcą pustką w tych okolicach). Na ścianie budynku karczmy w Chrzelicach powstała zaś mapa – graffiti.
W ramach zbierania materiałów do st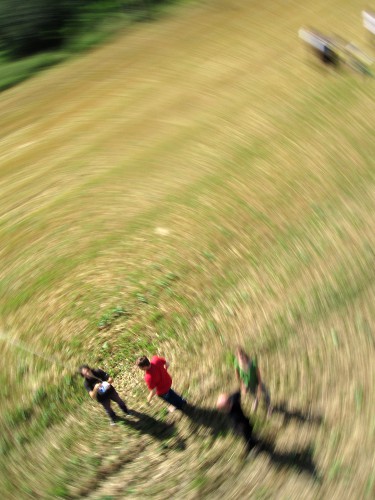 worzenia mapy, wykorzystaliśmy odbiorniki GPS, ale także serwis walkingpapers.org, zdjęcia lotnicze z 2007 lokalnego amatora-historyka Eryka Murlowskiego, oraz wypróbowaliśmy techniki wykonywania zdjęć lotniczych z latawca i balonu atmosferycznego. Te ostatnie są coraz popularniejszymi, tanimi metodami uzyskiwania wysokiej jakości zdjęć lotniczych. Informacje o nich najłatwiej znajdziemy pod słowami kluczowymi KAP i BAP (od Kite Aerial Photography i Balloon Aerial Photography).
Organizatorami obozu są Creative Commons Polska i Fundacja Ortus, której celem jest odbudowanie zamku w Chrzelicach i stworzenie w nim regionalnego centrum dialogu kultur.